Visitor management system with

facial

recognition
The VisitUs visitor management system features facial recognition designed to sign in visitors, contractors and staff seamlessly using biometric technology.
When your front desk area is starting to fill up with visitors trying to sign-in or your security team is busy verifying visitors identity then you may benefit from a visitor management system with facial recognition.
The built in face recognition software identifies an individual and signs them in faster than conventional visitor management systems.
Book in a demo or start your free trial today!
Or contact us for a free quote.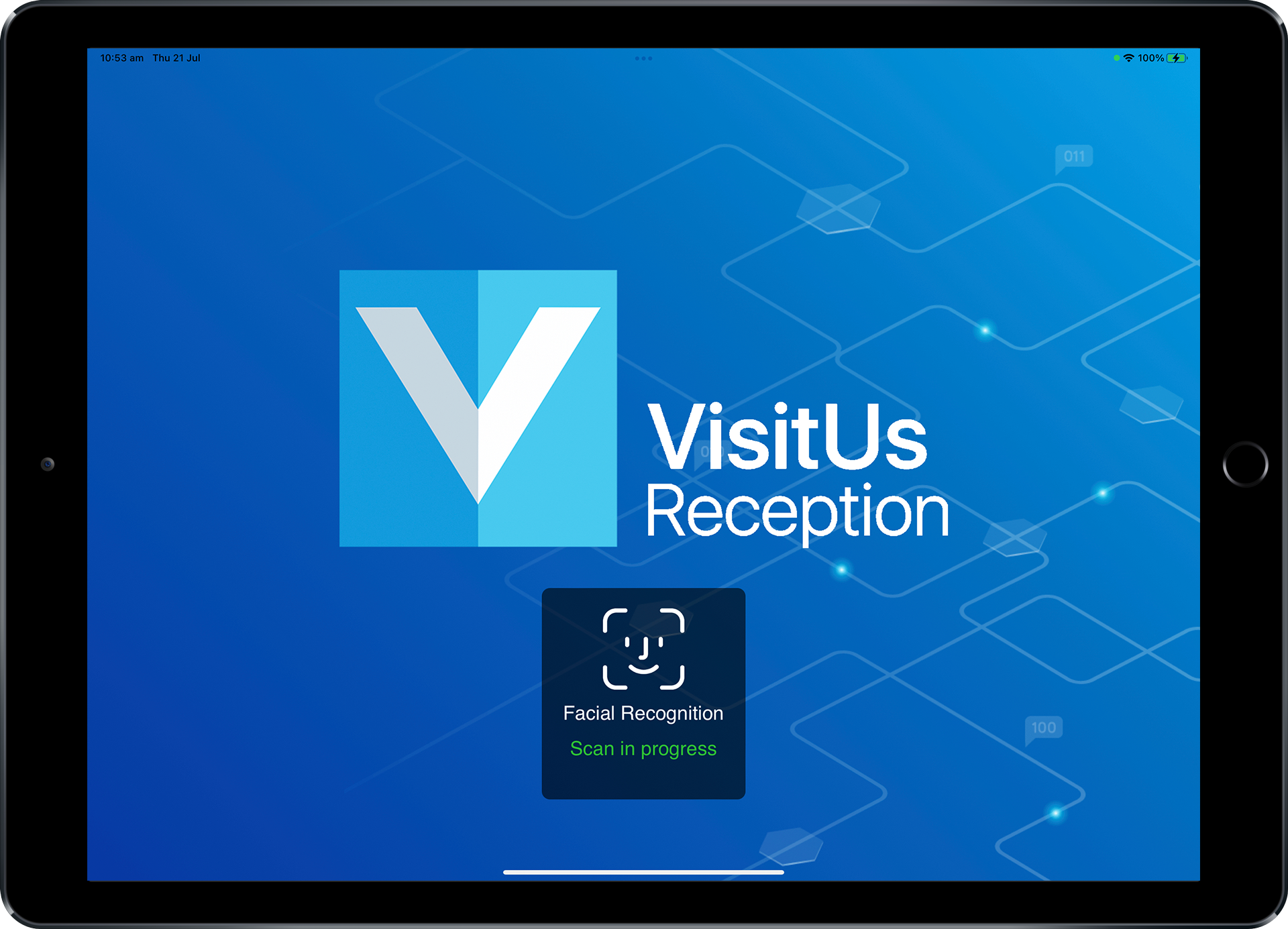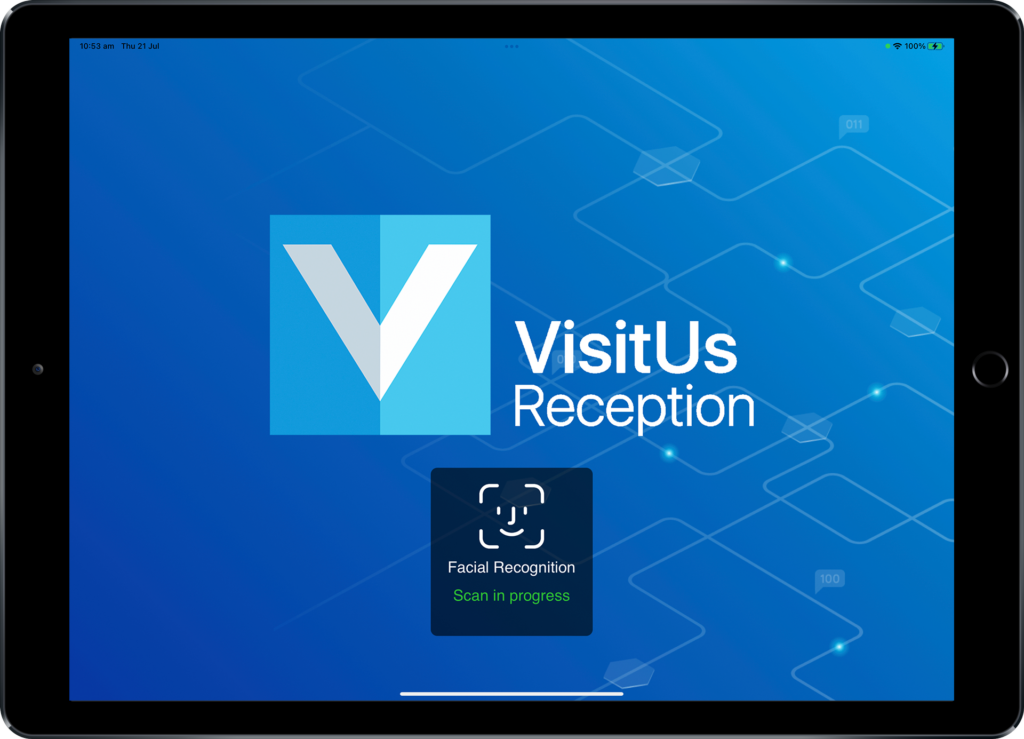 How the VisitUs

visitor

management

system

with facial recognition is changing how people sign-in
Make your workplace smarter and more efficient with the VisitUs visitor management system facial recognition app.
How a

facial

recognition

app

combined with credential verification software can create a

safe

and

secure

workplace
VisitUs has teamed up with credential verification software provider Credenxia to seamlessly complete background checks on individuals when they sign-in to a location.
Visitors, contractors and staff can be uploaded into the Credenxia system and an email is sent to them requesting the required verification documents.
When an individual signs in to the visitor management system we instantly check with Credenxia that they are fully verified.
VisitUs also offer multiple advanced features that assist in creating a safe workplace including SMS security alerts, evacuation management, contractor inductions and can also integrate with your access control system.
How can individuals sign-in to the VisitUs visitor management system
Does the VisitUs

face

recognition

app

share my image?
Absolutely not. Once the system completes the biometric authentication process it then deletes the images that was used to verify you.
The system does not record any facial features like facial hair, skin tone, approximate age. It purely reads the biometric map of a individuals face.
How much does a

facial

recognition

visitor

management

system

cost?
Prices vary from each system but the great thing about VisitUs is that it is included in all subscriptions.
No hidden fees or limitations on the amount of visitor sign-ins.
How does the system perform facial comparison analysis?
Each time a person signs in to the VisitUs platform using the photo capture process, it is instantly uploaded to your dedicated Microsoft Azure Face API database for facial comparison analysis.
The co-ordinates of the persons face are extracted from the image and then recorded in the database. No personal data is saved against the co-ordinates except a unique ID that relates only to your VisitUs account. The image is then destroyed as the facial recognition technology only requires the co-ordinates of the individuals face.
When the person returns for their next visit to the site, VisitUs can easily identify them by uploading a fresh image. The system starts comparing faces of previous visitors, contractors and employees until it finds a match. After each successful match the system will have improved accuracy as it now has multiple readings of the individual to base its analysis from.
Unscheduled on-site visitors or new visitors who have not submitted a photo to the system will be asked to sign in manually. If they submit a photo during the check-in process then they will be able to use the facial recognition check-in feature on their next visit.
What is

facial

recognition

software?
Facial recognition software is a technology that can identify individuals from digital images or video footage. This technology is used in a variety of applications, such as security, law enforcement and border control to secure premises from unauthorised access.
It can also be an excellent way to prevent identity theft as biometric identification compares unique facial points to confirm the individuals identity.
Face recognition technology has increased significantly in the last 5 years as multiple face detection APIs have become available, some of which use advanced artificial intelligence to detect how many people are in the image.
Once a face can be detected in an image it is then possible to try and match that person to someone who is already saved in your database and take the necessary action.
You can read more about face detection software in our post about increasing security in the workplace with facial recognition software.
Is there a limit to the amount of people who can sign-in to a

facial

recognition

visitor

management

system?
The VisitUs facial recognition visitor management system has no limit to the amount of visitors, contractors and employees that can sign into the system.
Each person has a unique record in the system and the co-ordinates of their facial recognition scan are linked to it. When they return to visit the same location the VisitUs system completes the scan and pulls up the individuals details.
What should you consider when comparing the best

facial

recognition

apps?
Where is the sensitive data stored?
One of the most important things to consider when comparing face recognition apps is where is the data stored and is it shared with any third parties.
It is important to keep your premises safe, however an individual's personal data should not be shared without consent and ideally stored in your own country.
With VisitUs facial recognition app data is always stored in your own region (AU, US , EU) and is linked to your specific account.
How long does it take for it to recognise faces?
If the face recognition process takes too long then the visitor can become frustrated and impatient. Look for a system that offers excellent user experience.
Are the devices used for face recognition expensive and difficult to source?
With the increase in facial recognition systems there has also been new hardware released to meet the demand. Some of these hardware options can be very expensive and have limited availability.
VisitUs uses Apple iPads with its facial recognition app to keep costs low and to make it suitable for any budget.