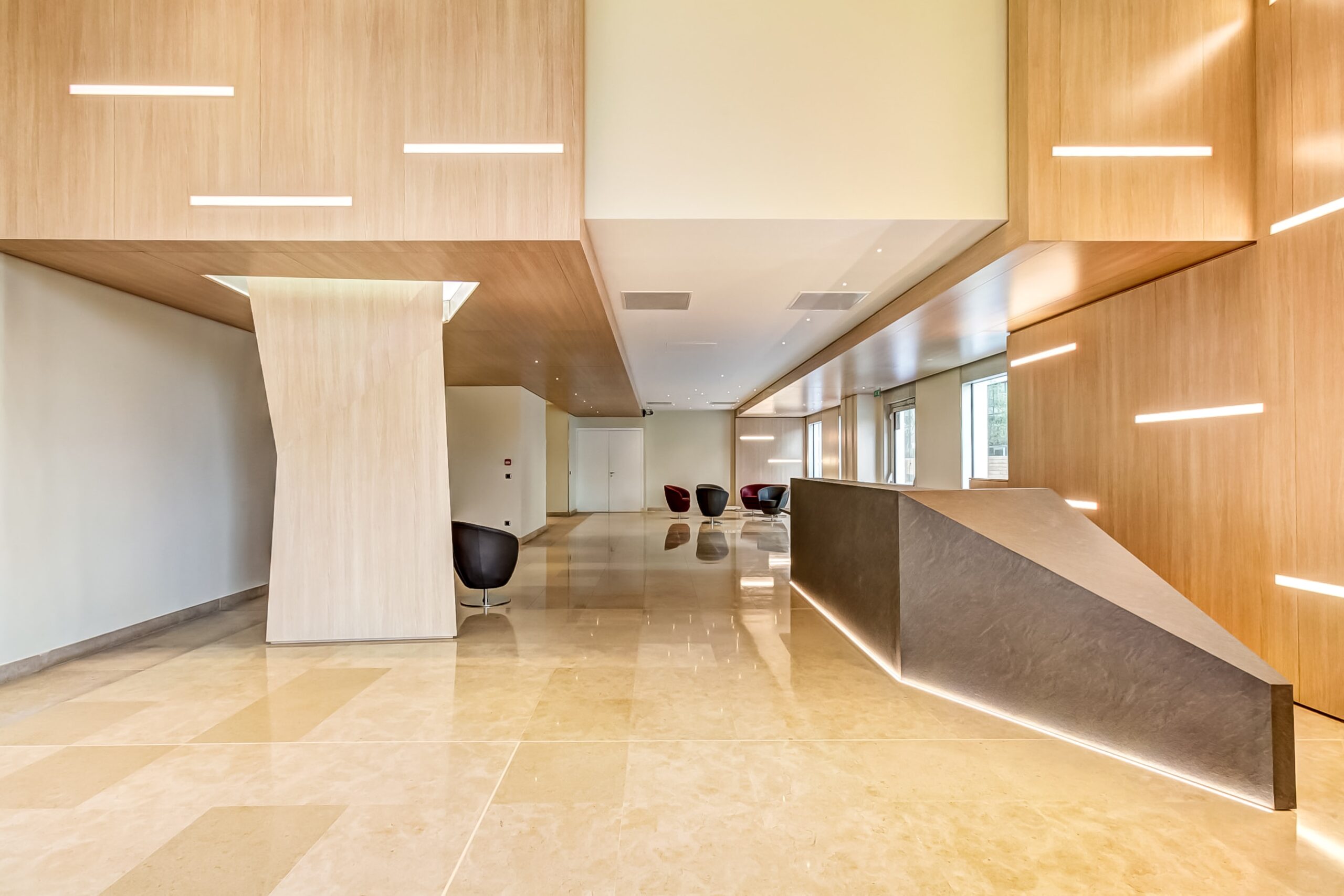 The Perfect Reception Desk for Your Business
When you're running a business, it's important to make a good impression on your clients or visitors from the moment they walk in the door.
A great way to do that is by having a well-designed reception desk that creates a warm welcome.
Let's discuss some tips for creating the perfect reception desk for your business.
We'll talk about how you can make it approachable, professional and extremely efficient.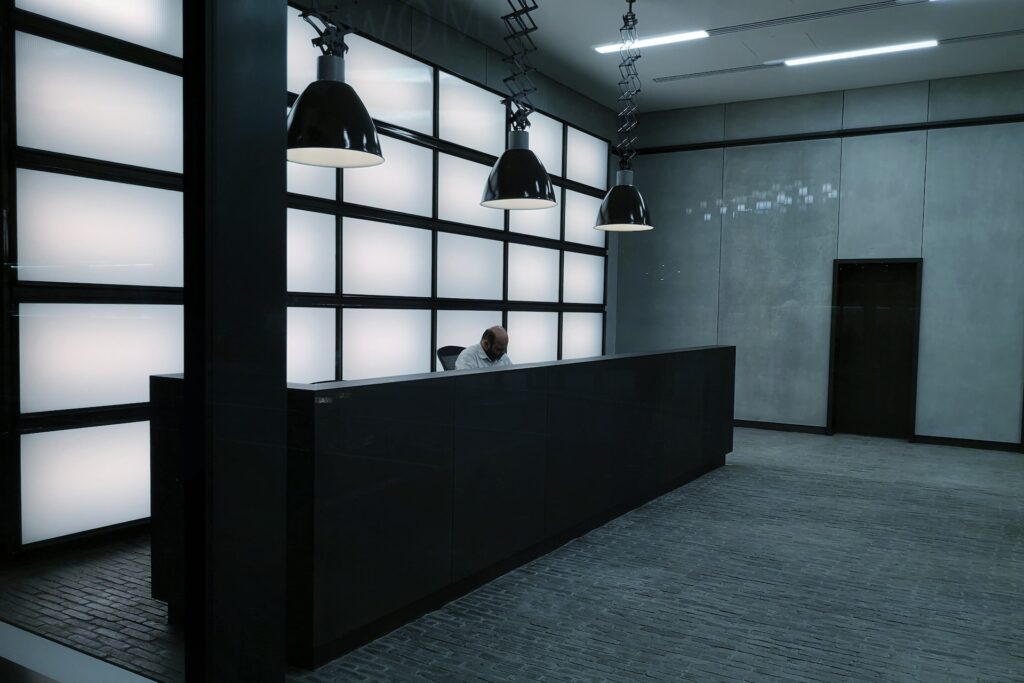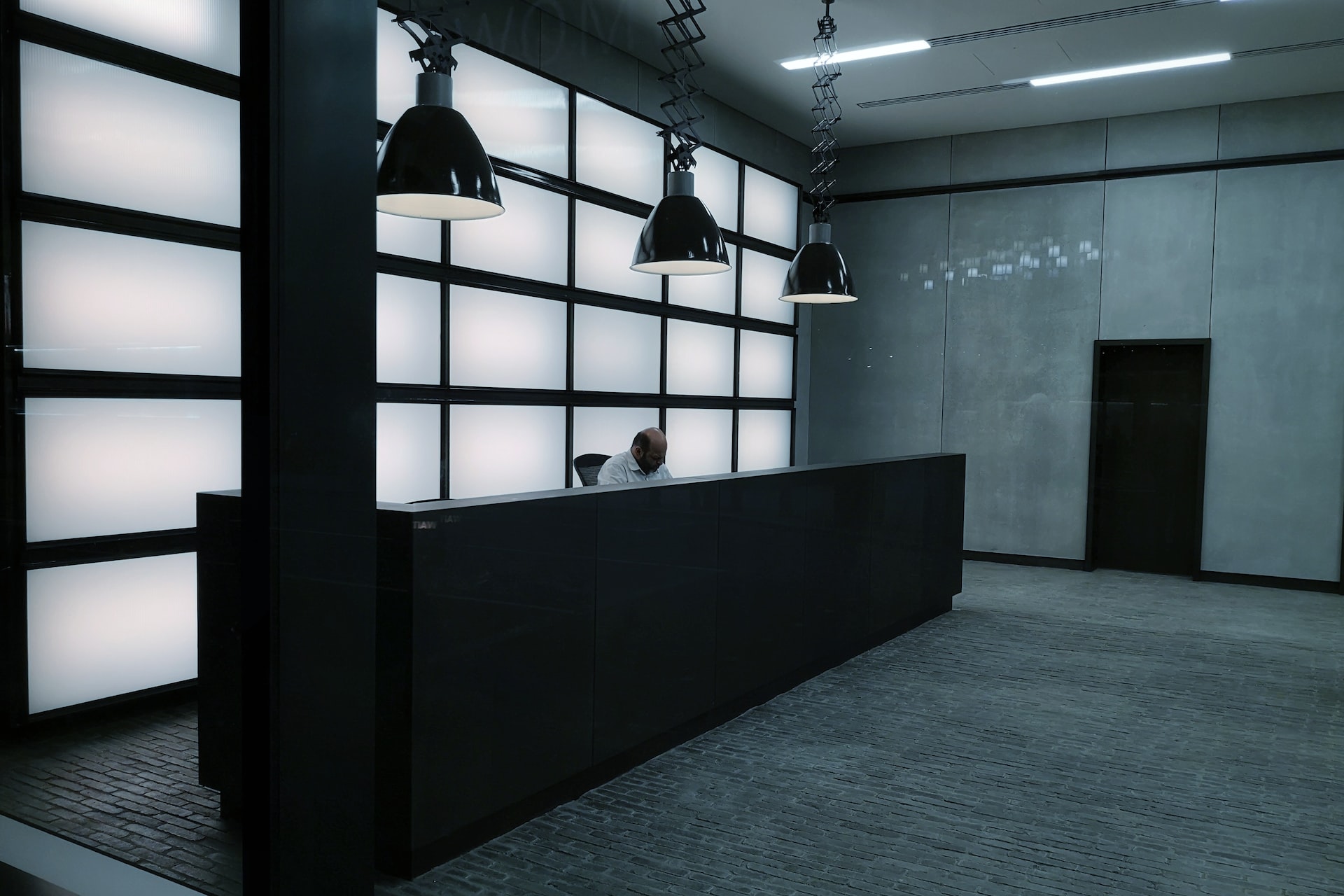 Sure, this one looks efficient and professional. But it's certainly not approachable.
What is the function of a reception desk?
A reception desk serves many important purposes in a business setting.
It is the first area that clients or visitors see when they enter your building, so it should be welcoming and inviting.
The reception desk is also where you interact with clients, visitors and employees so it must be efficient and professional.
Some other functions of a reception desk may include providing information about your business and its services, answering questions, signing guests in, and accepting deliveries.
Reception desks are very different from typical office desks or writing desk as they are more of a statement piece. They can offer a high impact to new visitors.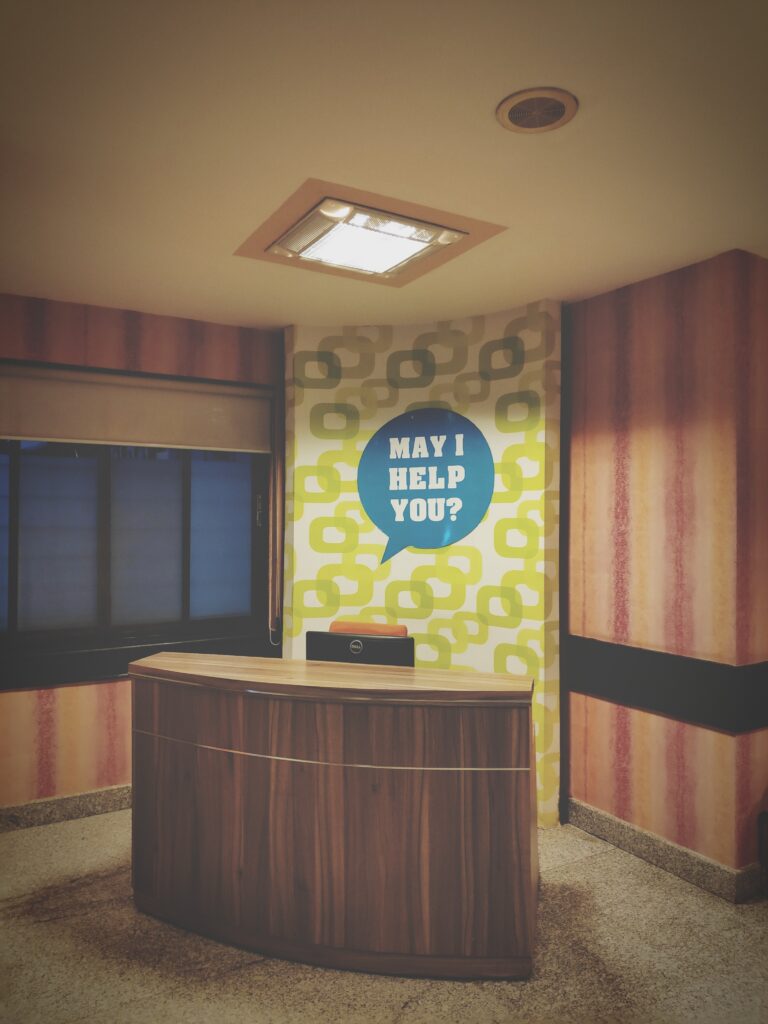 What to consider when deciding between reception desks
There is a wide selection of reception desks and options that you can choose from, depending on the size and layout of your business.
Some key considerations when choosing a reception desk include:
– The size of the space available, in order to ensure that the main desk isn't too small or too big.
– Your budget, to help you determine a realistic and affordable price.
– The overall style and aesthetic of your reception area, in order to align with your brand or business
– The functional requirements of the desk, such as equipment and how people sign-in, and storage options.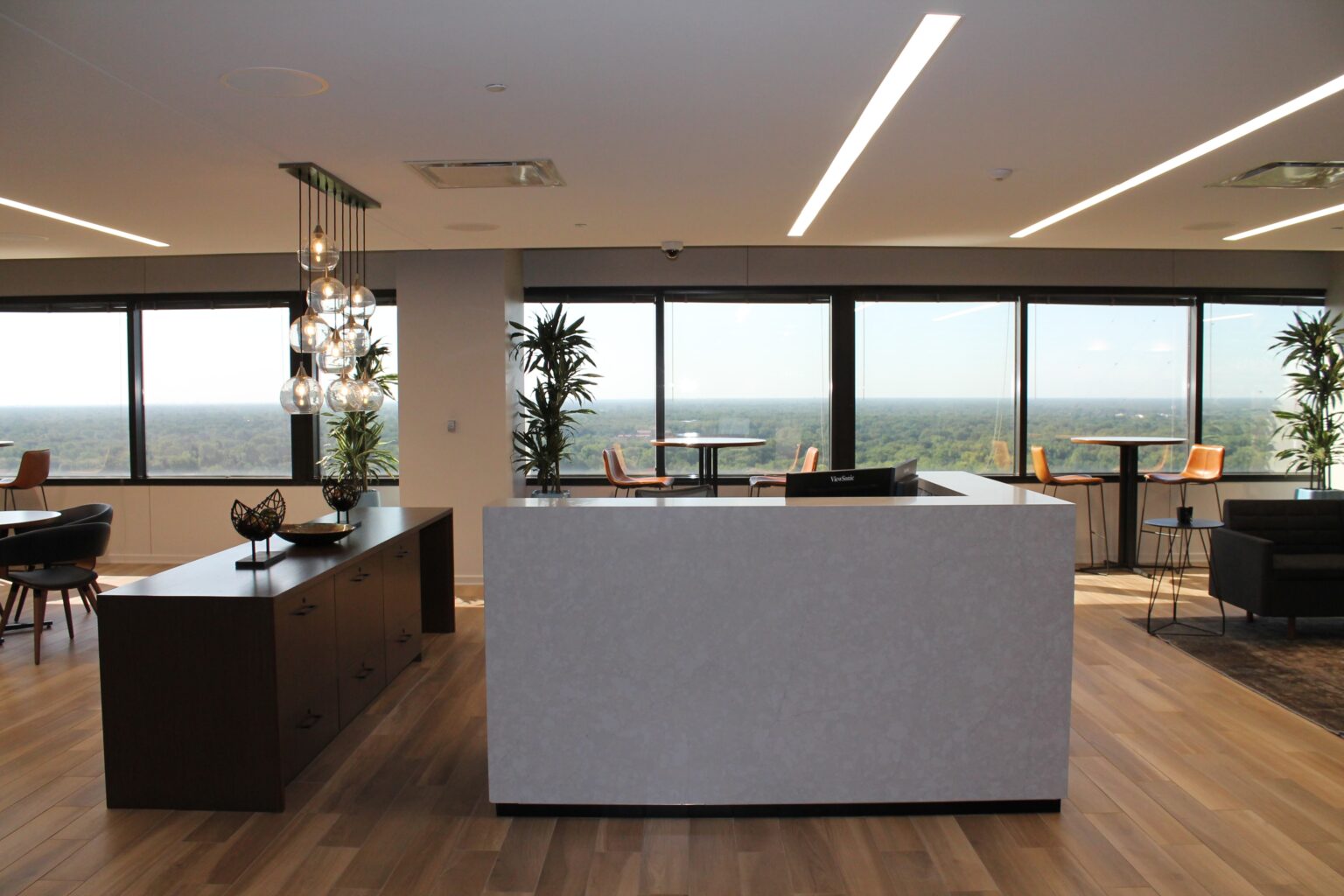 How to make your reception area welcoming
Create a warm welcome for your visitors by implementing considering the following:
Carefully consider wall color
You might want to paint everything the same color as your branding but sometimes thats not the best idea.
Look for colors that are easy on the eye and create a warm atmosphere. Light shades give an area a feeling of space.
Add greenery
Greenery has a positive calming effect and displays to individuals that you are willing to take care of things.
It can also brighten up an area and make it feel more homely. Something your receptionist might also thank you for.
Show off your branding
Take the opportunity to show off your branding. It can project a high confidence in your brand and make it obvious that a visitor is in the right place.
Consider the position of the reception desk
Place the reception desk in a prominent position so that it's clear where a guest needs to go. Receptionists should also have good visibility of people entering and exiting the building.
Use real wood desks
Use quality well made real wood furniture instead of laminate covered cheaper materials. The additional durability will make the price worth the investment.
Keep it clean
Try to present a modern reception desk that is clean and isn't surrounded by clutter like storage cabinets or drawers.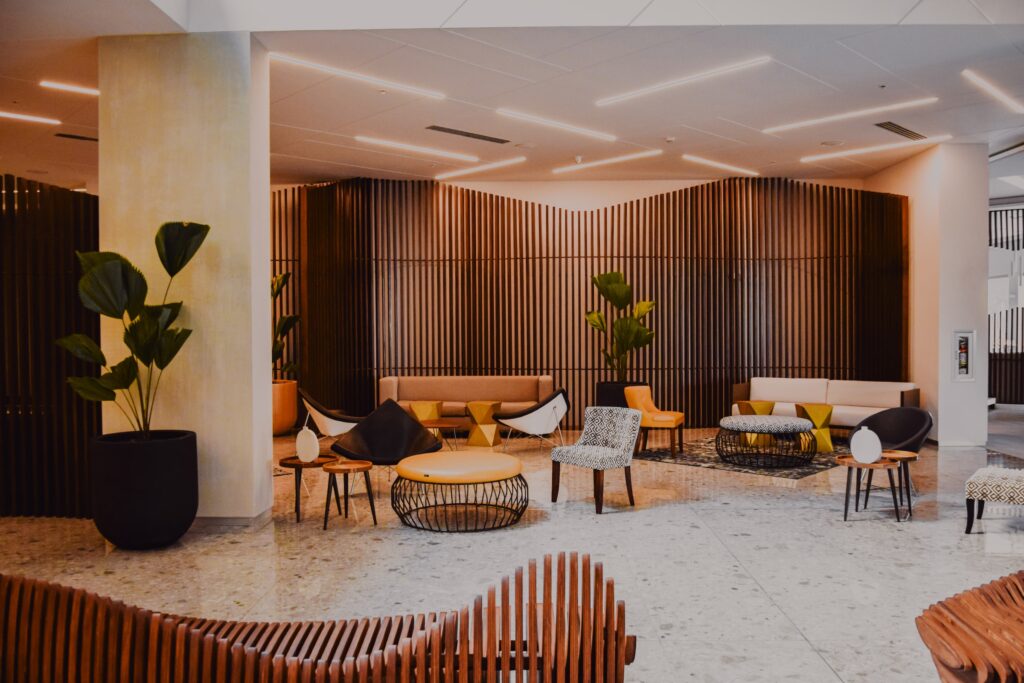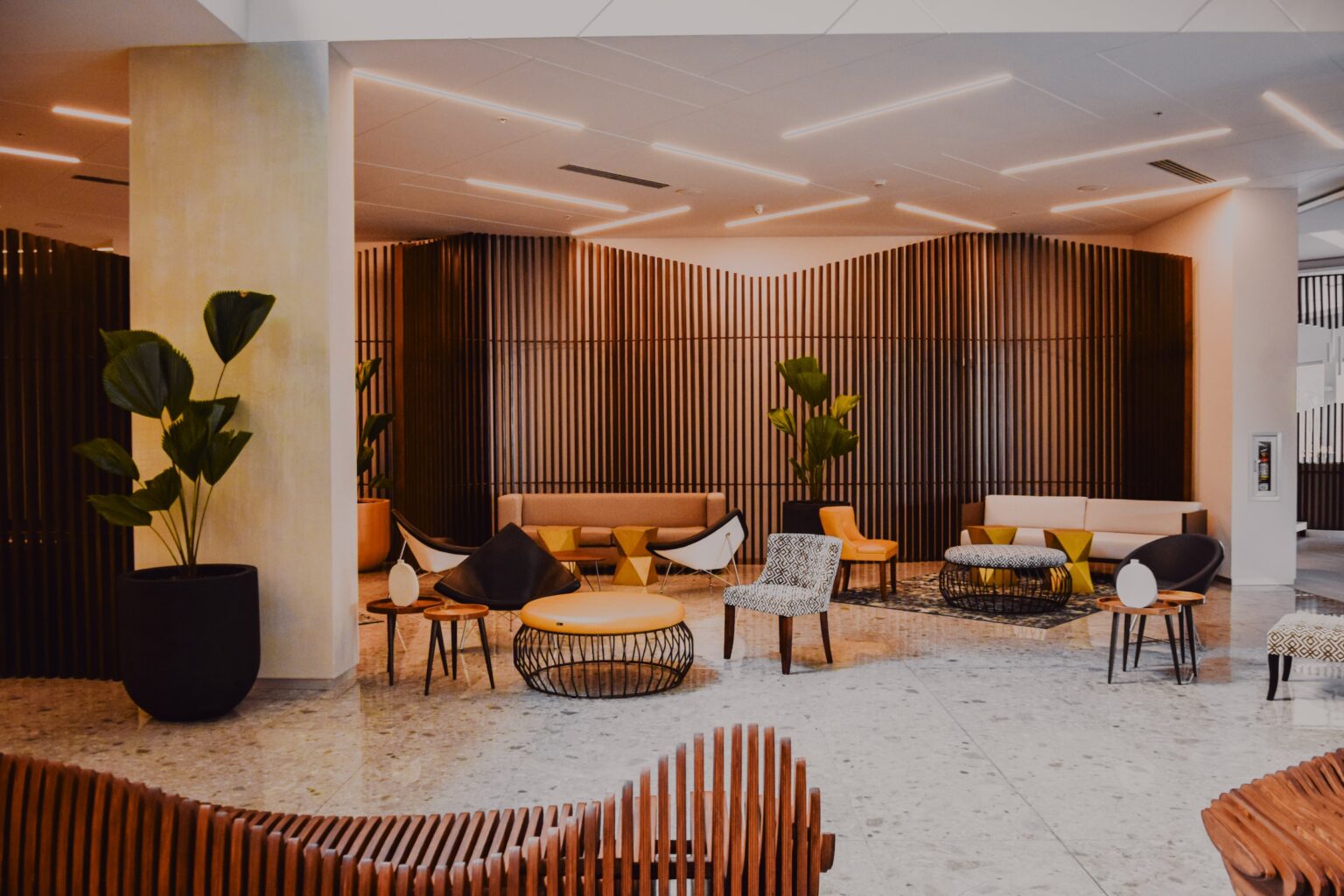 Top tips for an effective receptionist desk area
Now that you have a welcoming reception area, it's important to make sure that it's effective.
Here are some of our tips to make sure you get the most out of your newly installed reception area.
Consider more than one receptionist
An effective reception area is on that can deal with any number of guests walking through the door.
Multiple receptionist can deal with a large group suddenly arriving and also cover breaks so that you don't have an empty reception.
Install a digital sign-in system
Upgrade the traditional paper logbook with a visitor management system.
This will help your receptionist with features like automatic host alerts, delivery recording and provide a digital record of visitor information.
If you want to truely embrace technology in your reception, then consider using facial recognition for visitor and employee sign-in.


Add lots of hidden storage
Keeping things orderly will help drive efficiency in your front desk area.
Making sure to provide storage for common stationary and deliveries means you won't ruin the atmosphere you had carefully created through your design choices.
Conclusion
When designing your perfect reception desk, it's important to consider all of the factors that will make it welcoming and functional for both your visitors and your employees.
By using quality materials, adding greenery, showcasing your branding, and making sure you have plenty of storage, you can create an area that is both stylish and efficient.